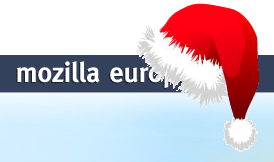 I wish the whole Mozilla community a merry Christmas and a happy new year 2007 !
I particularly want to thanks all the contributors working on Mozilla Europe and all the people that helped us along the years to build and maintain the portal, this is thanks to all these people that we were able to deal with 220 million visits and 2.5 billion hits in 2006.
Also a big thank you to all the people that worked on the new multilingual "in-product" pages for Firefox 2.0 on Mozilla.com !